Crate Training Your Puppy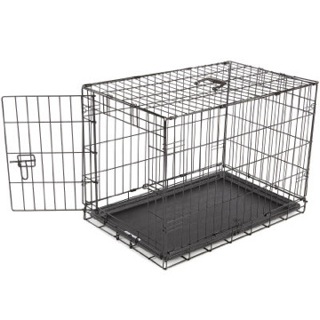 What you need to know when Crate Training
A crate is used in the same way that you would use a crib or play pen with your baby. It is a place where your puppy can go to be safe and comfortable.
When you cannot watch your puppy, when you travel with your puppy, when you need a break from your puppy, when your puppy needs a break, or when he is overtired and getting into trouble, put him in his crate for a nap.
Crates come in a variety of sizes and styles. Most commonly they are made of welded wire with a removable tray on the bottom, or of molded plastic or fiberglass. You can purchase a plastic crate inexpensively at your local discount store or discount club.
When crate training, start with a crate that is large enough for your puppy to sleep in comfortable and that will accommodate him for the next few months. When he outgrows this crate, you can sell it to a new puppy owner.
You can then purchase an adult size crate for your dog that you can use throughout his life as necessary. (Freecycle.com is a good place to look for a used crate for free.) If you would rather buy only an adult sized crate, block off part of it with masonite or something similar to make it smaller while the puppy is little.
Use this table as a guide to help you decide which crate is best suited for your dog. Please note that individual dogs within a breed can vary in size. Your dog should be able to stand up and turn around comfortably. You may decide a crate one size larger might be best for your dog. Comfort is another important part of crate training.
| Size | Dimensions | Suggested Adult Weight Limit | Suggested Breeds |
| --- | --- | --- | --- |
| X-Small (18') | 18"L x 12"W x 14"H | Up to 12 lbs. | Pug, Yorkshire Terrier, Chihuahua, Shih Tzu,Pomeranian, Maltese and similar-sized dogs |
| Small (24") | 24"L x 18"W x 19"H | Up to 25 lbs. | Border Terrier, Miniature Dachshund, MiniaturePoodle, Silky Terrier and similar-sized dogs |
| Medium (30") | 30"L x 19"W x 21"H | Up to 40 lbs. | American Water Spaniel, Dachshund, FrenchBulldog, Lhasa Apso, Miniature Pinscher, MiniatureSchnauzer, Pekingese and similar-sized dogs |
| Intermediate (36") | 36"L x 23"W x 25"H | Up to 70 lbs. | American Eskimo, Basset Hound, Beagle, BrittanySpaniel, Bull Terrier, Bulldog, Cocker Spaniel,English Setter and similar-sized dogs |
| Large (42") | 42"L x 28"W x 30"H | Up to 90 lbs. | Boxer, Chow-Chow, Dalmation, Golden Retriever,Irish Setter, Irish Water Spaniel, LabradorRetriever, Standard Poodle and similar-sized dogs |
| X-Large (48") | 48"L x 30"W x 33"H | Up to 110 lbs. | Bloodhound, Collie, Doberman Pinscher, GermanShepherd, Giant Schnauzer, Greyhound, Rottweiler,Siberian Husky, Weimaraner and similar-sized dogs |
Introduce your puppy to his crate in a pleasant and positive way. If possible, pick a time when he is tired and relaxed. Show him something you know he will really want and something that will keep him interested for a while. You could use a stuffed Kong, a marrow bone or his dinner.
Let him see you put it in his crate and then shut the door so he cannot get in. After a few seconds, open the crate and let him go in. Close the door. Praise him while he works on his reward. Before he is finished, open the door to his crate and tell him he can come out. If he chooses to stay in the crate, all the better. In the beginning, every time your puppy is in his crate make sure he gets a high reward.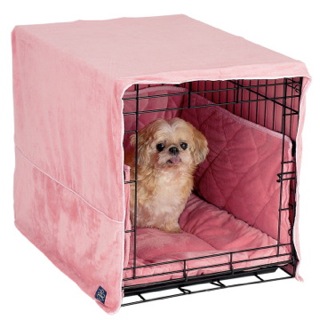 If your puppy will be sleeping in his crate, make sure that he is very well exercised and tired when you put him to bed. Set yourself up for success. Success is what crate training is all about.

If your puppy whines, whimpers, screams or barks in his crate, ignore him. Wait until he is quiet to let him out.

If you let him out, talk to him, or even yell at him when he is noisy, you will find that he actually will be noisier longer next time.




Return from "Crate Training" to "Puppy Training"