Safety Programs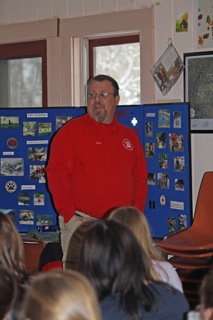 Education is an important role that we play as Search and Rescue K9 teams. Presenting safety programs are a great way to educate the public and spread awareness.
The public turns to us for answers to important questions on safety. Most important is teaching the younger generation ways to be safe while enjoying their surroundings.
I have been lucky enough to work with some organizations and present a safety program called HUG-A-TREE to children between the ages of six and fourteen years old.
This program began in 1981, when a nine year old boy (Jimmy Beveridge) went missing in California while on a camping trip with his family. The search went on for four days until he was found. Unfortunately, it was too late. Ab Taylor, who was part of the search team developed the program based on this incident.
The program was developed to educate children in a select few of the most basic and vital survival principles. It was specifically designed for children between the ages of 7 and 11 but can be effective with slightly younger and older kids as well.
Since HUG-A-TREE began, the program is credited with saving hundreds of lives.
Click here If you are interested in ordering the presenter material.



What is "Turn Around Don't Drown" or "TADD"?
TADD is a NOAA National Weather Service campaign to warn people of the hazards of walking or driving a vehicle through flood waters. This is a great safety program to bring awareness to both children and adults of the dangers behind walking or playing near flooded roads and streams.
Each year, more deaths occur due to flooding than from any other severe weather related hazard. The Centers for Disease Control report that over half of all flood-related drownings occur when a vehicle is driven into hazardous flood water.
The next highest percentage of flood-related deaths is due to walking into or near flood waters.Why? The main reason is people underestimate the force and power of water. Many of the deaths occur in automobiles as they are swept downstream. Of these drownings, many are preventable, but too many people continue to drive around the barriers that warn you the road is flooded.
Click here if you would like more information about TADD.




Return from "Safety Programs " to " K9 SAR Home Page"